NAUTIC7

About Nautic7
Grant Headifen, President of Nautic7 and a boating enthusiast is determined to make boat access and ownership quick, easy and more affordable for aspiring captains everywhere. He is widely known as the father of and the leading guru in fractional ownership solutions for the marine industry. In 2001 he founded the company SailTime. He grew SailTime to 30 franchised locations through out the USA, Canada and Europe and then sold out in early 2007. He has since taken the fractional concept to the next level by providing a better solution for sailors, boaters, manufacturers and dealers . Nautic7's unique combination of fractional ownership and technology take the thousand year old idea of sharing boats to a high class professional experience for the consumer. Nautic7's newest customer is Beneteau. In 2007, Beneteau engaged Nautic7's services and technology to create Beneteau Fractional Yachting.
Nautic7 has also aligned with Ocean Sailing Academy in South Africa to bring over 10 years of Organizational Strength Building using sailing as the medium to provide the ultimate in team building exercises in Austin and throughout North America. "We've seen and proven that sailing provides the richest environment for team building exercises, to observe, to give feedback and learning so that a team can begin to operate at its peak performance", says Robbie Dove, President of Ocean Sailing Academy.

NauticEd is also a creation of Nautic7. NauticEd aligned with teaching expert Dr. Hansen, Professor Emeritus of the University of Southern California to create the world's most advanced online sailing and boating educational online courses. Several courses exist whereby students learn across the broad spectrum of boating knowledge. Online clinics drive knowledge deep into each topic.
About Grant Headifen
,
President and CEO of Nautic7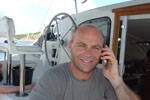 Originally from New Zealand, Grant has more than 20 years of boating experience. As a captain, he has logged thousands of miles on voyages around the world and lead dozens of destination sailing trips through the Caribbean, Mediterranean, Sea of Cortez and South Pacific.
As President of Nautic7, Grant leads the expansion of the company into new markets. He oversees the development of the Nautic7's technology applications. In addition, as CEO, Grant keeps his view on the horizon and ensures that Nautic7 is steering in the right direction.
Grant holds a Master's degree in Engineering from the University of Texas. His wide range of business experience includes oil, defense, computer hardware and software, restaurant, legal and internet application industries. Grant's expertise and passion for life and liberty on and off the water is leading his fractional sailing concept from its humble beginnings in 2001 to Grant now becoming the global guru in the marine fractional ownership industry.
You can meet Grant at many of the boat shows he attends worldwide and probably on the dock in the Caribbean.
About Amanda LeBlanc,
Director of Marketing

Amanda LeBlanc has more than 12 years of marketing and communications experience, and she's putting it to work to build awareness and growth of the Nautic7 national and base brands. As the director of marketing, she is responsible for messaging, branding, collateral, web marketing, advertising, and new product launch activities.
Prior to joining Nautic7, Amanda served in marketing leadership positions for healthcare and technology organizations. Her experiences include pre-launch product positioning and marketing plan development, branding and positioning, corporate communication, direct marketing related to magazines, mail and web, sales tool development and support, market research, trade shows, public relations and promotional materials.
Beyond the office, Amanda has been an actively involved with The Leukemia and Lymphoma Society's Team-in-Training program, Leadership Harlingen, and the Junior League of Harlingen. Currently, Amanda is a member of the Baton Rouge Junior League and the American Marketing Association.

About
Magdesign
Brand and Technology Team
Nautic7 has chosen Magdesign as it's brand and technology design partner. Magdesign has excelled in helping to bring Nautic7 to world class levels in professional look and feel and guru levels in software.
Partners and Customers


Nautic7 is an exclusive fractional solution supplier to Beneteau, the largest production sailboat manufacturer in the world.


A content rich technology leading online teaching and testing software. Visit Nauticed.org to learn about this non profit certification company.


Ocean Sailing Academy - Cape Town, one of the largest RYA sailing training schools in the world, provides Nautic7 with team building exercises for corporations through out North America.


West Marine
Nautic7 boats are outfitted with West Marine Equipment


SunSail
Nautic7 uses Sunsail for it's Caribbean and Mediterranean excursions.

| | |
| --- | --- |
| Company Clothes is Nautic7's fulfillment and clothing distribution partner. Click on the shopping tab any where on the Nautic7 site and prepare for an excellent shopping experience. Add your company logo or text to our clothing, hats, and bags. | |
Nautic7 is expanding. To grow smarter and better, we are always adding new partners to our value-added team. Each Nautic7 Member is encouraged to take advantage of the opportunities available to them from the leaders in the boating industry.


Advisors
Nautic7 has chosen a diverse team of advisors to recommend best practices in business, technology, boating, operations, legal, and finance. These advisors are committed to the Nautic7 vision of making boating practical and affordable in every viable port in the world.
Vision Statement
Nautic7 will make boating practical, safe, affordable, enjoyable and a learning environment to people in every port in the world.