NAUTIC7 MEMBERSHIP

How Nautic7 Works
If you've been considering sailing in your life, but hesitating because of the commitments, Nautic7™ is the answer you've been looking for.
Because of its unique and simple to use scheduling software, Nautic7 provides the best fractional sailing experience. You design your sailing calendar the way you want it, anytime, 24/7, for upto a year in advance if you like. If the wind is good right now, you simply login make the reservation and go. And while it almost seems like it's too good to be true, we really give you the opportunity to go out on a beautiful new Beneteau sailboat practically whenever you want. The convenience can't be beat. You'll definitely feel as though you have full ownership and enjoy the added benefits of professional management. Let us do all the work. You have all the fun.
Nautic7 Members enjoy impressive, new Beneteau sailboats that are "shared" by up to seven Members and one Owner-Member. Everyone is guaranteed flexible and frequent boat use. Our advanced Nautic7 Scheduler system makes scheduling easy, convenient and effective for all the Members.
And Nautic7 Members don't worry about maintenance. It's simple with Nautic7's iBoat Management System™, which ensures the boat is always ready to sail when you are.
With Nautic7 Fractional Sailing, the monthly costs are usually less than charter rates or even slip charges at your local marina. Of course, prices vary according to boat size and the location of the berth. For a quote on costs, contact the Nautic7 Austin base.
Interested in becoming a Member? Just follow these steps:
Contact your Austin Nautic7 Base Manager now and schedule an interview.
We'll access you abilities and custom design a training plan for you.
Fill out a Membership Application. Pay the security deposit, the initial training and area familiarization fee and your first month's Membership fee.
Do online training at NauticEd to get your theory skills up to date and ready for our state of the art new and impressive fleet of Beneteau sailboats.
Begin your personalized practical training and area familiarization
Create your personal sailing calendar. Point, click and go boating.
Once you're on board with us, Nautic7 now makes sailing a practical addition to your lifestyle. You don't have to worry about boat maintenance, bank notes, slip fees or insurance. No buying or selling a boat. You simply enjoy sailing when you want.
Nautic7 puts you in control.When you become a Nautic7 Member, you're in control of your sailing schedule with our real time online system for sailboat scheduling and boat management.
Nautic7 Scheduler
With Nautic7 Scheduler, you can make instant reservations—and even plan outings up to a year in advance. You can book a half-day, a fullday, a full weekend or even up to an entire week. You design your sailing calendar the way you want it. It's always available online for quick and easy planning.
iBoat
Nautic7's innovative iBoat Management System helps us manage any maintenance issues. As boats arrive and depart, the boat's condition is logged into a wireless PDA onboard each boat. The system notes items that need replenishing or immediate attention and sends an email to the Base Manager or next-scheduled Nautic7 Member that informs them about the boat's status. iBoat ensures Nautic7 boats are ready to go when you are.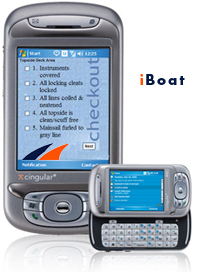 Are you ready now? Fill out an application with the Nautic7 Austin Base on Lake Travis .